79silvermachointerior
The Black interior of a silver 79 Macho. All 79 and 80 Macho interiors were black including door panels and upholstery.
Date: 07/20/2008
Views: 40020
equipidlabel
The under hood equipment label from a 77 POWER WAGON CALIFORNIAN.
Date: 08/25/2008
Views: 31720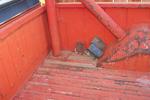 machobar1
Macho roll bar with the under bed braces.
Date: 08/25/2008
Views: 38543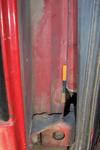 machostripeclue
The end of a Macho stripe still on the inside lip of a door. This 78 440 macho was originally red but now is hidden in black rattle can paint.
Date: 08/25/2008
Views: 33902
79machowheel2
Macho wheel showing the black stripe which was originally solid (looks like a double but just worn), and an original plastic center cap. Same as used on LREs.
Date: 08/25/2008
Views: 36977
79machowheel1
The back of an original 79 Macho 15x8 wheel with the parts number visible
Date: 08/25/2008
Views: 42101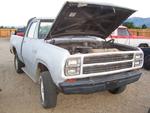 80orange
An 80 Orange MACHO short bed now hidden under grey primer.
Date: 07/01/2007
Views: 32163
78azmacho1
A 78 440 MACHO with the original Skylight Sunroof now hidden under what looks like a black rattle can job.
Date: 11/03/2006
Views: 47094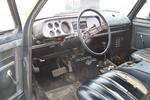 80yellowmachointerior
Something even a lot of MACHO guys haven't seen. This is an optional bucket seat set up in a 80 macho. Note the Ramcharger style console and seat mounts unlike all earlier buckets with padded buddy seat.
and rail set up.
Date: 04/06/2008
Views: 25955